Closed Tenders
Resolución de 4 de junio 2018 de las Escuelas de Doctorado de la UAH, UAM,UCM, y la URJC, del III Concurso "Tesis en 3 minutos".
Listado Definitivo UAH"Tesis en 3 Minutos 2018″
Listado Definitivo URJC "Tesis en 3 Minutos 2018"
Open the submission term for the "3 Minutes Tesis 2018"
Deadline extended for the CEI´s Awards 2017
        Final resolution of the CEI´s Awards 2017
Finalists of the 3 Minutes´ Thesis Awards of the  URJC
Provisional List of Accepted Candidates of the UAH and  URJC
Definitive List of Accepted Canditates of the UAH  and  URJC
Resolución Oficinal del Premio Tesis en 3 minutos
Ganadores Concurso Tesis en 3 Minutos URJC-UAH
Finalistas Fase previa Concurso Tesis 3-M
Resolución definitiva de admitidos URJC
Resolución definitiva de admitidos UAH
Programa Concurso Tesis 3 Minutos
Resolución provisional de admitidos URJC
Resolución provisional de admitidos UAH

Ferrovial  CI3 Tenders (UAH –URJC)
The Smart Infrastructures Innovation Centre (CI3) used a publicity campaign to announce the tender for 2 research projects in the field of smart infrastructures, for the IEC group's institutions, UAH, and URJC.
Proj. E-JUNK SHOP: A technological platform for the reuse of objects deposited in Clean Points. It consists in the use of an on-line clean point as a reference location for the exchange of reusable items and the recycling of materials between the public. A Marketplace platform is developed, accessible via PC/mobile/Tablet PC, in which the user accesses the updated catalogue with reusable products. Maximum tender budget: €140,000.
Proj. SMARTAPARC: The aim of the project is to develop a surface parking monitoring system through real time artificial vision applications, which is a smarter way to manage city parking infrastructures. The system must allow publishing through different means such as information panels, websites, and/or mobile applications. It will be tested during the Cultural Centre of Guadalajara. Maximum tender budget: €150,000.
Deadline for applications: 16th June 2014 by 18:00.
Application presentation location: Sede del Centro de Innovación de Infraestructuras Inteligentes, Avda. de Buendía nº11 – 2ª Planta, Oficina 68, 19005 Guadalajara.
Further information: concursos@ci3.es
Further information on the specifications can be found in the website: http://goo.gl/ouLdHq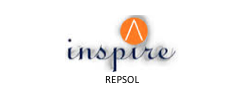 REPSOL INSPIRE PROGRAMME
The "INSPÎRE Programme" is an open innovation initiative between Repsol and King Juan Carlos University (URJC), which aims to bring the best energy ideas to fruition. It targets URJC university community and the other "Smart Energy" International Excellence Campus partners who have both the curiosity and ideas to resolve the challenges proposed in this campaign. The aim of this INSPÎRE Programme is to find ambitious solutions to the energy and environment challenges faced by our society, as well as encouraging a creative and innovative spirit to aid the incorporation of significant advances in the energy sector.
The programme will consist of three different phases:
PHASE I:
• Proposal presentation: from 3-10-2013 to 3-12-2013
• Communication of selected proposals: 14-02-2014
PHASE II:
• Project preparation: 14-02-2014 to 1-04-2014
• Communication of selected projects: 15-07-2014
• Negotiation and signing of agreements with plan authors: 45 days
PHASE III:
• Negotiation and signing of agreements to develop the projects: 45 days
URJC researchers and lecturers will be able to send their proposals via the Universitas XXI website, within the internal INSPÎRE Programme tender.https://investigacion.urjc.es/Investigacion/indexInv.jsp
"Smart Energy" International Excellence Campus partners and URJC students that want to participate will be able to send their proposals to the URJC Centre for Innovation, Technology Transfer and Knowledge (CINTTEC) to the following email address: cinttec@urjc.es
For more information on this programme, please contact Mar Gómez Zamora, mar.gomez.zamora@urjc.es
On completing and sending this form, you concede to allow your personal data to be handled in file owned by King Juan Carlos University, only for the purposes described in the Inspire Repsol-URJC programme terms. This data is collected in accordance with the provisions of Organic Law 15/1999 on Data Protection (LOPD), published in B.O.E. 298 of 13th December 1999, at all times.
King Juan Carlos University (URJC hereinafter) uses this web page on the Internet to service the previously described programme. Content uploaded by the URJC or participating companies is protected under intellectual property rights. Brand names, logos, labels, and designs appearing on this page belong to the URJC, to participating companies, to companies from their group or their licensees, as applicable. Content downloaded from this page is only for personal use and not commercial use. The content cannot be either copied or modified.
The URJC will do everything within its means to include accurate and up to date information, but does not guarantee or make any statements about its accuracy or the level of detail. The Repsol-URJC Inspire Programme Terms document will be the only valid document.